1 May 2020
An experienced school Principal and leading educational expert from Perth has been appointed to the position of Head of Girton Grammar School and will commence in Term 4.
Chair of the Girton Grammar School Board, Mr David Jemmett, said the appointment process which commenced last year had been extensive, and the Board was delighted to appoint Dr Clayton Massey as the third Head of Girton Grammar School.
"We intended to find an experienced Head who understood the values that Girton espouses, and we are confident that Dr Massey is the right person to guide Girton's next chapter.
"With more than 135 years of history, striking the right balance between maintaining the traditions and values that make Girton unique, and meeting the learning needs of the modern student is crucial to the school's growth and future.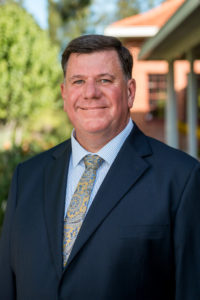 "Dr Massey comes to us from Tranby College in Perth where he has been credited with a turnaround in school culture and financial stability. Prior to this, Dr Massey was the Head of Senior School and Deputy Headmaster, Curriculum, at Guildford Grammar, one of Perth's leading schools.
"We are confident that Dr Massey's skills, experience and personal attributes make him an excellent choice for the diverse Girton Grammar School community, and that his strong desire to see students achieve will take the school from strength to strength," Mr Jemmett said.
Dr Massey is a highly experienced educator and educational innovator in all aspects of school leadership. He has worked in seven different schools, including teaching in the United Kingdom, and completed doctoral research into the social, cognitive and multi-modal growth of young adolescent males. This work was recognised by an invitation to speak at the 21st Century Academic Forum at Harvard University and subsequent involvement as an author of the 2017 book Educating for the 21st Century: Perspectives, Policies and Practices from Around the World".
"At the core of Girton's values is the expectation that students and staff will always strive for excellence in both academic and co-academic areas of education. The Board is confident that Dr Massey will nurture the development of good all-round citizens through his passion for advancing individual abilities while developing broad academic and social skill sets.
"The Board wishes to thank Dr Emma O'Rielly for her valuable contribution to the school while in the role of Acting Head and her exemplary leadership of the entire school community in recent challenging times," Mr Jemmett said.