School Psychologist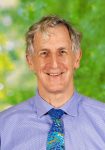 Mr John Pease works as a consultant Psychologist with the School to provide different forms of assistance to students, parents and teachers in relation to enhancing the learning and emotional wellbeing of students at the School.
Some of his work involves consultancy with teachers and parents, while some can involve more direct forms of assistance to individual students.
Students who are regarded as being "at risk" may work with Mr Pease on a regular or occasional basis. Psychological counselling can be arranged by parent/ Doctor directly, or from the School. All School based referrals must be made  through the relevant Head of House or the Head of Pastoral care.
---