15th September 2020
Since the donation of "ear savers" to Bendigo Health frontline workers became publicly known, Girton Grammar School has been inundated with requests and has donated approximately 700 of the ear relief strips to a range of organisations from aged care homes and hospitals to fire rescue services and private citizens.
Acting Head of Girton Grammar School, Dr Emma O'Rielly, said that the School's 3D printers had been working overtime to keep up with demand.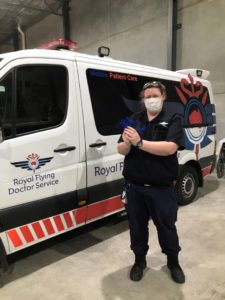 "The Coronavirus pandemic has taken school's in a range of directions, but this is not one that we anticipated.
"A conversation in a virtual classroom about solving real-world problems using technological solutions lead to the printing of ear-savers. We are so pleased that we have made this small contribution to coping with the pandemic.
"We have mailed ear-savers to Box Hill Hospital, Melbourne Eastern Private Hospital, Kyneton Hospital and several additional units within Bendigo Health.
"We have even sent ear-savers to firefighters who had concerns about safety with masks that secure behind the ears. Evidently, standard face masks can become easily dislodged during emergency medical responses.
"Apart from exposing firefighters to COVID-19, dislodging of facemasks is also an issue where firefighters are attending to incidents that include asbestos or other toxic fibres," Dr O'Rielly said.
Many healthcare workers report irritation and aching behind the ears from wearing a face mask all day. The simple plastic ear-saver strip allows pressure to be relieved from behind the ears and for the mask to be affixed by the two loops that normally go around the ears, by connecting at the back of the head.
Each strip takes approximately ten minutes to print and is made from recyclable ABS plastic. The ear protectors can be sterilised and re-used.
Girton has also donated ear savers to paramedics, the Royal Flying Doctors, Fire Rescue Victoria, Cabrini Oncology Centre and several independent GP's and Bendigo locals.
"We are delighted to have contributed in this small way to the efforts of people on the frontline of this pandemic, or to have simply made someone's day a little more comfortable," Dr O'Rielly said.
Chantelle Sobczyk is a Girton graduate from 2005, now working with the Royal Flying Doctors. She said;
"I would like to thank Girton for the donation of ear savers to the Royal Flying Doctor Service in particular the Bendigo mobile patient care team.
"So far staff here in Bendigo and also several Ambulance Victoria Paramedics have received the 3D printed ear savers from the school with more to be sent to other Branches we have around the state. As a former student it's great to see the school donating these to various health care workers who are giving their all caring for our community.
"Thank you to the students and staff making this happen."
Pictured: Fire Rescue Victoria workers trial the Girton 'ear savers.'