28th July 2022
For a state level soccer competitor, Emily Everist (12 Aherne) makes an exceptional AFL player, and as pick number 25 in the recent AFL/W draft, while completing her VCE studies this year, Emily will narrow her sporting focus squarely on Aussie rules football.
Emily grew up in a family of footy fanatics and has fond memories of visiting local ovals with her two older brothers and her dad to "have a kick". But it was soccer that stole her sporting heart from a young age, so she set about dedicating herself to the sport and reached great heights. Emily is blessed with natural athleticism and is also a competitive runner. She ranked fourth nationally in the AFL/W 2km draft combine time trial. Sometimes, so much talent forces decisions that set a future path.
"After fourteen years of playing competitive soccer, I fell out of love with the game", despite training with the emerging Matilda's, which was a great experience.
"I decided to go along with a friend to have a kick of footy with the Bendigo Pioneers, and the coach invited me to be a part of pre-season training.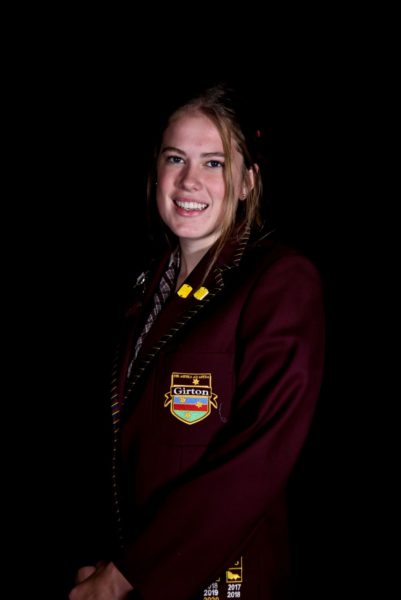 "I started playing with the Bendigo Pioneers in January of this year and had no expectations other than to enjoy myself and play my best," Emily said.
Emily's road to AFLW selection is what many would describe as a 'dream run'. After playing several games for the Pioneers, Emily was selected to play for Vic Country's NAB AFLW National Championships side. This entailed three games. One on the Adelaide Oval and two in Melbourne. Emily attended the training camps associated with preparing for these games and played two games in the VFL for Essendon as part of the team that went on to win the Premiership. The final piece in the selection puzzle for Emily was playing in the under 23s All-stars team against the National Academy, a team consisting of the best 24 women football players in Australia. The eyes of recruiters from a number of AFL clubs were on each of these matches and training camps in which Emily was participating purely for the love of the game. Selection into the AFLW was never a goal for Emily in her debut amateur season.
"You can imagine my disbelief when I heard my name on the live television broadcast of the AFLW draft.
"I was on holiday with my entire family in Palm Cove. The draft started at 7 pm, and mum and I were racing home on our bikes to make it back in time.
"There were over 600 players nominated for the draft, and only 83 players who got drafted this year, so I thought it was out of reach for me in my first year.
"I talked to six different clubs in the lead-up to the official draft, but I assumed the conversations carried little weight, seeing I was so new to the sport and the whole AFLW scene.
"I was too nervous to watch the draft and disappeared back and forth into another room while my family watched. I walked back into the TV room right before the moment that my name was read out in round one.
"I was shocked into silence, but my family made up for it in screams of triumph!" Emily said.
After accounting for interstate selections, Emily was the 12th Victorian player selected in the draft, a phenomenal effort by anyone's standard but particularly impressive for a rookie. Her holiday was cut short after being drafted, and she flew home the next day, first dealing with her phone, which she says nearly "blew up" with friends and family offering congratulations. When she landed in Melbourne, her AFLW career commenced.
"I flew home on a Thursday, and on Friday, we had physiotherapy screening and meet-and-greets with a range of people and staff from the Hawthorn Football Club.
"By Saturday, we were undertaking our first training session as a team, with the backend of training alongside the men's side, which was crazy for me.
"The male Hawthorn players made an effort to know our names and treated us with enormous respect. They were so supportive.
"When we left the ground after training, young children were asking for our signatures and photos, so there was a second unreal moment within the first training session," Emily said.
Emily predominantly plays in the back half at half back or full back but also plays on the wing. She makes the connection between soccer and football;
"I really like the wing or half back. These positions require a lot of running, which suits me.
"You get lots of space – and it's a much bigger space on a football ground than a soccer pitch.
"Soccer skills in general transfer well to footy especially footwork. Spatial awareness and positioning on the ground are similar.
"Playing any sport at a high level entails a strong work ethic, high level of professionalism and a dedication to teamwork, so these things are all familiar to me from my soccer experience," Emily said.
The commitment that will be required of Emily in becoming a paid AFLW player is substantial, but she says that the club looks out for its rookies who are still at school.
"We train about three times per week, depending on the week, but the club is happy if current school students attend only one formal training session with the team.
"At the moment, however, I am attending all sessions as I get myself established in the team. At least I know there is flexibility should I need it later in the year.
"When I train, I leave at 2 pm and return home to Bendigo at 11 pm, so it's a huge commitment. Saturday training starts at 7.00 am, so I tend to stay overnight on Friday in Melbourne with one of my older brothers (2018 Girton graduate, Will Everist).
"I am on a two-year contract with Hawthorn and plan to take a gap year next year to focus on making the most of this very unexpected opportunity. After that, I am contemplating studying Paramedics at University," Emily said.
This year is the first that the AFLW will have a full contingency of teams in its women's competition. Hawthorn is a new team this season (along with three others), which means Emily is now part of history, being selected to play in the club's inaugural women's season. She is number 25, which is a strange twist of fate given she was pick number 25 in the AFLW draft pick and also wore the same number on her old soccer guernsey.
Emily did the Girton Sports Excellence programme up until Year 10, which supported her soccer training. She is grateful for the guidance she receives from Mr Ben Furphy and Mr Dean Norris, who give special permission for Emily to use the weights room in spare periods to keep up with her AFLW training requirements. She plays football for Girton (Emily is the girl's football co-curricular captain) and is looking forward to continuing this co-curricular activity alongside coach Ms Maddie White and supporting other players to be their best.
When asked who she barracks for in the AFL/W and whether this has changed, Emily is unapologetic about being a convert.
"The whole family used to follow Melbourne, but we are now Hawthorn devotees," she said.