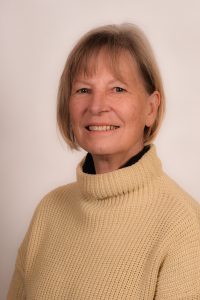 Life Before Girton
I grew up in the western suburbs of Melbourne. After finishing school in Williamstown, I attended the University of Melbourne graduating with a Bachelor of Education.
My first teaching position (1976) was at Drouin Secondary School in West Gippsland where I mostly taught French and Indonesian. I left Drouin (1980) to teach English in a senior secondary school in France for a year, lucky enough to be in the French Alps region and able to indulge my passion for skiing.
Returning to Australia in 1981 I continued teaching French at Wedderburn High School until 1987 when we (now married) relocated to Bendigo and I commenced teaching French, Indonesian, Music and Psychology at Catholic College Bendigo for 15 years. Whilst there I completed a post graduate qualification in Librarianship at Charles Sturt University.
Keen to pursue working in the library field I was lucky enough to gain a position at Girton, working in the library as well as teaching French.
What I Like Best about my Subject Areas
I love languages. I find them fascinating. Apart from my two main foreign languages I have also learned some Spanish, Italian and German. The study of languages is an open door to the understanding of other people, their culture and their history. It hopefully sparks an interest to explore beyond what is learned in the classroom, to instil a passion to travel and gain a first-hand insight into the lives and cultures of other people and in doing so promote understanding and tolerance of the differences of others. As for Library, we hope that our students gain a passion for reading, with all the benefits that brings in terms of their creativity and English language skills. Research skills, learning how to source information, is a tool for lifelong learning, well beyond the university years.
My Favourite Classroom Activity
This would be when I can "hide" the learning of a grammatical item in French for example, in a topic of real interest, so much so that the students don't realise they are using the grammar but just enjoying the topic and almost just absorbing the language structure. An example of this would be for Years 7/8 a study of dates, times, prices etc using the Asterix Theme park in Paris as a topic, rather than a bland text book page.
What Difference Can Good Teaching Make
Good teaching encourages the development of passion and interest in students, helps them to believe in themselves and to see their potential. For the teacher it gives a good feeling of satisfaction of having done a good job, the best you can do, of having achieved your goals for a class. Good teaching leads to better teaching, the passion for the teacher to always go one step further in delivering their subject.
Other Hats
Co-curricular Activities: In the past Basketball and Dance, Library monitors, Circus Skills currently Teddy bear making and other crafts.
Supervisor of Distance education – great opportunity to be involved with other languages.
Outside of work: very involved in helping out on a thoroughbred Horse Stud, absolutely love travelling – anywhere, gardening, reading.