28th July 2022
An international competitor and Australian national champion explains….
For someone who has recently returned from the world championships in her chosen sport and having trained six days a week for many years to get there, Ruby Conti (10 Millward) is amongst that rare breed of elite athletes for whom humility is just as important as being on the winner's podium.
When Ruby was very young, she was naturally prone to dressing up and dancing at home, so like many parents, her mother decided to enrol her in dance lessons. These classes she enjoyed immensely, but Aerobic Gymnastics, which she tried on the suggestion of her Aunty, captured her affection.
"My mum's sister was an Aerobic Gymnastics coach at Palmers Gym in Bendigo, so I did a few training sessions under her tutelage. To my surprise, I entered a competition just a few weeks later and won.
"I was in Prep at the time, and The Aero Challenge competition was in Melbourne. It was the first of many, many trips up and down the Calder Freeway for Aerobic Gymnastics training and competition," Ruby laughs.
Through her Girton Junior School years, Ruby experimented with rhythmic gymnastics, trampolining, and acrobatic gymnastics. Her foundations in ballet gave her the strength and coordination to enjoy all of these gymnastic disciplines, but it was Aerobic Gymnastics that she finally settled on. Although, settling has been the antithesis of Ruby's training routine for many years. She trains three to four times per week in Melbourne, with each session three hours in duration, in addition to undertaking a fitness programme written by a strength and conditioning coach, which she undertakes at a local gym.
"During the week when I have Melbourne training sessions, I need to leave school at 2.30 pm, and we get home to Bendigo at about 10. 30 pm.
"During the season, my weekly schedule includes training five days per week and competing, so overall, I am doing about thirteen hours of training or competing each week.
"The training in Melbourne is purely for practising routines and developing skills that my coach critiques, and the Bendigo-based training is about strengthening, stretching and conditioning. Although there is an expectation that the gym training will occur, this side of training is self-driven," Ruby said.
All this training requires healthy eating and plenty of sleep to sustain the level of fitness that Ruby requires to complete her routines, which, while only eighty seconds in duration, are best described as extremely high octane.
"I don't have a diet prescribed for me or anything, but I do eat a lot of protein and vegetables, and my parents are amazing support on this front, preparing healthy and well-balanced meals. I feel best when I pay attention to clean eating, especially in the lead-up to competing.
"While healthy eating is essential for my sport, it definitely takes more than kale smoothies to be successful!" she said.
Ruby participated in her first international competition in Year 5 in Arizona, hosted by the Association of National Aerobic Championships. She returned to the same event the following year when she was in Year 6. She occupied the highest level on the podium and received gold medals on both occasions.
In Year 7, Ruby again graced the world stage and competed in the Suzuki World Cup in Japan, competing as the youngest competitor in her age group and placing in the top ten competitors. Later in the same year, Ruby travelled to Bulgaria to compete in the Plovdiv Open. Then, for two years, the competition (especially international events) was decimated by the COVID-10 pandemic.
"The very first COVID-19 lockdown was the most challenging time I have experienced in my sport.
"I was training six days per week, two hours at a time via Zoom. I struggled to keep up motivation, and for the first time, I was not enjoying the sport at all.
"During the second lockdown, I trained four times per week by Zoom, again undertaking two-hour sessions. This time around, I had a slightly better mindset, I think mostly because we were starting to train again specifically for competitions. The training had more meaning for me," Ruby explained.
The family garage during the height of the COVID-19 pandemic became Ruby's home training facility. It was fitted out with an enormous air track mat, a special 'crash mat' designed to support athletes learning new manoeuvres, many of which require the athlete to be inverted or in equally risky positions.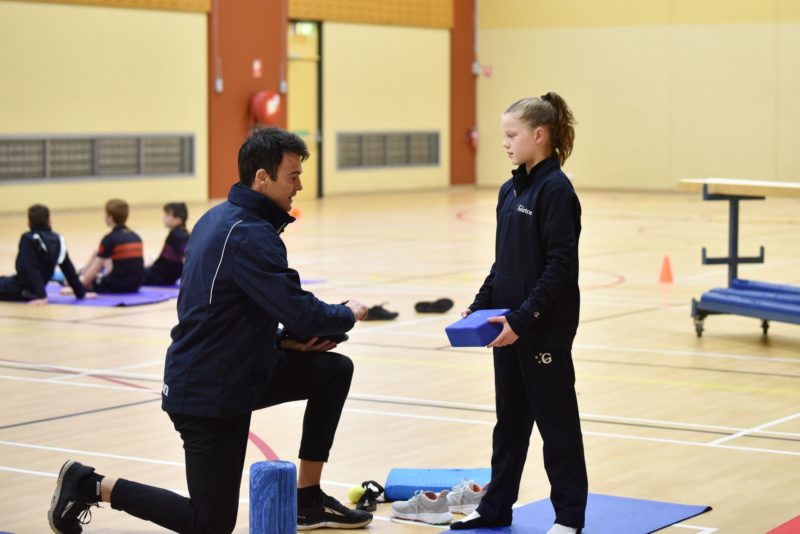 "I was pretty lucky to set something up at home that gave me a dedicated training space. The air track mat allowed me to try new things that might normally be physically supported by a coach and to be sure of a safe landing. My grandpa even built me a chin-up bar," Ruby said.
For all of the training she undertakes, Ruby only has a precious eighty seconds to prove her worth to the judges. Unlike a team sport or a match that might last two hours, there is little time to leave a mark and virtually no room for error. Pre-competition nerves are part of the routine.
"Side stage, just before competing, I pick the sides of my fingers, and they sometimes end up bleeding. I get fidgety, wipe my hands on my legs and fiddle with a piece of my hair. It's definitely nerve-wracking.
"But all of these little habits also help me settle. It's like a routine or meditation before I perform. I also do a lot of mental visualisations of the performance, especially the difficult components.
"If you make a mistake, you keep going. You have to play it off as though it did not happen. I try to use mistakes as a motivation to keep trying even harder and to make the remainder of the routine flawless. Accommodating mistakes through a performative sport like Aerobic Gymnastics is all part of meeting the aesthetic requirements of a routine that judges are closely scrutinising.
"Aerobic Gymnastic performances are judged on artistic expression, technical execution and degree of difficulty.
"I would say that demonstrating difficulty is my strong point. It's the main way I try to differentiate from other competitors.
"For example, if you can imagine a full turn straddle jump to push up – all in one move without touching the ground – that's the kind of move that I love trying to perfect.
"Another favourite is the Helicopter to Wenson – a push-up with one leg over a shoulder," Ruby casually explains.
For such a demanding sport that requires so much of an athlete – poise, confidence, athleticism, rhythm and performance, it is hard to imagine the forces that might motivate someone to take the sport to its highest level, which Ruby has achieved many times.
"I just love the whole experience. I love the life lessons that come out of the sport, especially through international travel. I love the feeling of finishing the routine and the sense of accomplishment when I have performed to the best that I can," Ruby explains.
When asked about the most important life lessons that Aerobic Gymnastics have afforded her, Ruby does not hesitate.
"Independence – especially with travelling. From 10 years of age, I have travelled without my parents. Although I've been with a team and there have been adults present, competitors have to be quite self-reliant.
"Having said that, there is no way I would have achieved a fraction of what I have in this sport without the unbridled support of my parents, especially mum. It's not just the travel involved with training and competing; it's a whole lifestyle – physical and emotional – and it simply would not be possible without family support.
"Persistence is the other valuable trait I think Aerobic Gymnastics has given me. I've learned that one bad routine does not throw you off track forever. It's about refocusing and trying again. This mindset has really helped me beyond Aerobic Gymnastics, especially with things like my schoolwork," Ruby said.
Ruby is catching her breath following the most recent World Championship event in Portugal, after which she spent three weeks travelling around Europe.
"Currently, I am really enjoying coaching the Girton Junior School Aerobic Gymnastics students and assisting with Senior School coaching and mentoring.
"The school season starts this week, so we aim to make it to Queensland for the Schools National Championships," Ruby explains.
In a final nod to the sport and to a fellow elite athlete, Ruby talks about competing with Alessia McCaig, who graduated from Girton in 2021 and will compete in the Commonwealth Games this week in the UK in track cycling.
"Alessia and I first competed together for Girton in the Aerobics Gymnastics pairs competition when I was in Year 4, and she was in Year 7. We competed together until last year when Alessia graduated, and now she is solely focused on competition bike riding.
"I can't believe she will be representing Australia in such an iconic event. I will be screaming my lungs out for her every time she is on the track," Ruby said.