23rd February 2021
Two 2020 Girton Grammar School graduates, and one current student, have been selected to perform in concerts at the prestigious VCAA Season of Excellence at the Melbourne Recital Centre on 30th March and the Athenaeum Theatre on 26th February 2021.
Connor Marshall and Anika Weibgen (2020 graduates) were invited to audition for Top Class Music based on their excellent VCE Music Performance examination scores in 2020. Based on their auditions, they have now been selected to perform in the annual VCE Season of Excellence presented by the Victorian Curriculum and Assessment Authority.
Tai Hindson, who is currently in Year 12 at Girton, has been invited to perform his music composition based on outstanding VCE results at Top Class Sound at the Athenaeum Theatre in Melbourne on 26th February.
Head of Girton Grammar School, Dr Clayton Massey, said that the opportunity for these students to take to the stage after completing so many music lessons and recitals via Zoom last year was well earned.
"Connor and Anika were so pleased to be invited recently to audition for Top Class Music 2021 in person, and now their outstanding audition performances have landed them on stage at the Melbourne Recital Centre.
"Both students have been tremendous contributors to the Girton music programme for many years.
"Anika plays the oboe and was a member of Girton's BASS Band, Senior Concert Band, Wind Symphony, Symphony Orchestra and Junior Advanced Band. She was Captain of Wind Symphony and Symphony Orchestra.
"Connor plays Classical Guitar and has been an invaluable member and Captain of Girton's Segovia Guitar ensemble and the VCE guitar quartet.
"Tai is an incredible music composer, and his original composition will be performed alongside Girton alumni on violin, cello and piano at the Athenaeum Theatre. His work was inspired by the great piano trios of the Romantic era, such as those by Mendelssohn and Schubert.
"During lockdown last year, our Music Department did not miss a single week of Music lessons or general Music classes.
"Our Music staff are incredibly dedicated to their students, and this was reflected in outstanding VCE Music Performance, Investigations and Style and Composition examination results at Girton last year," Dr Massey said.
Top Class Music and Top Class Sound 2021 presents student performances based on 2020 VCE examinations scores in VCE Music Performance, Music Investigation, Music Style and Composition, and VCE VET Music Industry (Performance). The concerts entail a range of instruments, interpretations and styles by soloists and groups. For the first time, this year high achieving VCE Music Performance students were required to be selected via audition to take part in the Melbourne Recital Centre concert.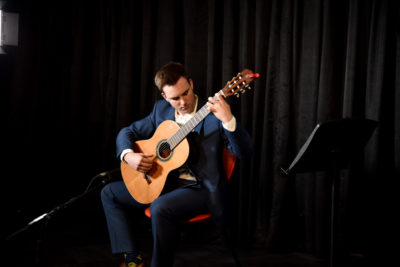 Connor will perform Koyunbaba – Movement I by Carlo Domeniconi; Anika will perform Cavatine et Scherzetto for Oboe and Piano by Rene Berthelot; and Tai's original composition is titled "Spirit of the Goldfields", evoking the landscape and history of the Central Victorian Goldfields in the 19th century.
"We are very proud of Connor, Anika, and Tai and so pleased that these young musicians will share their talent with audiences in Melbourne.
"No matter where their music takes them, the journey for these students has been formative, and they should feel pleased with the contribution they have made to the music programme at Girton.
"Anika is studying Music Performance at the University of Melbourne this year and has been awarded the prestigious Bromley Julian Oboe Scholarship, while Connor is undertaking an Electrician apprenticeship.
"Tai will continue to compose music and play the violin and the piano to balance out his VCE studies this year.
"Playing and composing music is a lifelong gift that I know these three students will enjoy and share in all manner of ways," Dr Massey said.