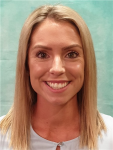 Life before Girton
I grew up in Shepparton and moved to Bendigo to attend university in 2004. I studied Bachelor of Science (psychology) in my first year before transferring to teaching in 2005. I started my career as a Preparatory Teacher at Echuca Primary School. After two years in this position, I decided it was time to move to Melbourne and see what the city had to offer.
From there:
Taught Preparatory at Seabrook Primary School
Taught Preparatory at Kalinda Primary School
Gained a Master of Education (International Baccalaureate) through The University of Melbourne while working full-time
Taught Year One at Ruyton Girls' School
Taught Year Six at Ruyton Girls' School
I moved to Bendigo at the end of 2019 with my family because I think it is a lovely place to raise children and be closer to family.
Since then:
Girton Drama position (part-time)
Girton Year Two teaching position (part-time)
What I Love about Teaching:
Teaching is about love. It's not about transferring information but instead creating an atmosphere of curiosity, imagination and discovery. Being a teacher is a profoundly challenging and rewarding job. I wake up every day smiling, knowing I can grow, influence a life, and love what I do. Teaching gives me the ability to be creative, flexible and problem solve. I love that no two days are ever the same. I want each student to feel valued, listened to, and capable of greatness. I see teaching as a responsibility — and something that deserves to be done well, with great effort and enthusiasm. I chose to become a teacher because I love learning so much. When I was in school, I had some wonderful teachers and they showed me how amazing learning could be when you have a passionate teacher who knows you well and knows how to get the best out of you. For me, it was the encouragement and sometimes a little push to try new things.
What is the best thing about teaching at Girton?
The passionate staff and outstanding students! I feel proud to work in such an excellent school, where academia and students' emotional intelligence are valued. I am cognizant of how privileged and lucky we are here at Girton, and I feel honoured to work in such a caring and passionate school.
What do you like best about the year level you teach? (Junior School Teachers only)
I love teaching Year Two because students at this age are inquisitive about the world around them. They are not afraid to ask big questions, and they genuinely care about each other and their teachers.
My favourite classroom activity
Anything related to Inquiry Learning. I love when students develop questions they are hungry to answer. I love when they become 'mini researchers' by asking questions and exploring answers. I enjoy watching students become passionate about learning, present their ideas, and reflect on the learning journey.
What difference can good teaching make?
A good teacher is passionate. They set high expectations and model their love of learning. A good teacher is authentic and shows vulnerability. They model independence, imperfection and encourage mistakes. A good teacher empowers students to develop skills like communication, research, social skills, self-management and thinking. They teach Emotional Intelligence and encourage students to think Globally and about real-world issues. A good teacher helps students develop a growth mindset, "I can't do it yet, but with hard work and determination, I can achieve anything." A good teacher is an inquirer themselves and will provoke curiosity in their learners. They see learning as a process of construction, building on prior learning through investigation, analysis and reflection. They relish that building process in collaboration with students. I think if teachers love what they do, their learners are infected by their enthusiasm. If teachers love to learn, they instil a love of learning in their students without even trying. A good teacher makes a positive difference in the lives of their students.
Other Hats
I like to read books, and I also enjoy doing yoga or practising mindfulness. I start each day with mindful meditation. I love going to the beach – my perfect day involves a book and the beach. I love to go camping with my family in our camping trailer. I also like to spend time with my two children- Archie and Harper. I try to do things with them that they enjoy doing together. We often go bike riding, kick the footy, go to the local library, visit playgrounds, swim, play dress-ups and bake together.