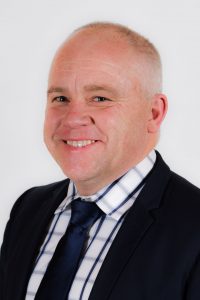 Life before Girton
After graduating from La Trobe University with a Bachelor of Teaching, I spent a number of years living and teaching in Europe. As well as the mandatory stint in London, this also included a season living on a Greek Island, before returning for a stint in Yorkshire teaching at a primary school there.  After my return to Bendigo and a number of years teaching in local primary schools, I pursued my love of Graphic Design and completed a Bachelor of Graphic Design in 2008, with a major in Illustration. Immediately prior to my arrival at Girton in 2018, I enjoyed a stint at Marist College, Bendigo. Prior to that, I worked at Eaglehawk Secondary College for 9 years, where I was lucky enough to combine my love of teaching with my passion for graphic design. In this time I set up and managed a classroom in the main street of Eaglehawk (specifically for disengaged students) and also set up Eaglehawk's own community publication – the 3556 Magazine. I commenced employment at Girton in 2018 and whilst the place is super busy, I have never worked in a school like it. I love coming to work every day at Girton (Even Mondays!).
What I Love about Teaching
Seeing the look on a young person's face when they can suddenly understand or do something they didn't think they could previously, is still one of the biggest buzzes in teaching. Building great relationships with young people is also an absolute joy to me. To do this properly, I have found that we need to go beyond the academic content and take an interest in the various layers that make young people tick – their music, their sports, their passions, their pets – whatever! Mistakes are a very valuable part of learning and I enjoy helping young people own their mistakes and convert these into valuable life lessons.
There is no place to work, quite like a school. From the Headmaster right down to the smallest Prep; everyone has an important role to play each and every day. And a group of people pushing forward together is both infectious and inspiring. As well as this daily burst of collective energy, I also love the variety that we get in teaching – one thing you could never say is that the profession is boring or 'too predictable'. Working with young people, no two days are ever alike and you never quite know what will come your way. Like a champion tennis player, we must be on our toes, fully present and ready to go left or right, depending on what comes our way.
What is the best thing about teaching at Girton?
I absolutely love the house culture at Girton. There is never a dull moment in house life and each year the whole group become like a school based family. All House Tutor groups from 7-12, the Tutors, the Captains and the Head of House working, connecting and having fun together.  In recent years I have been assistant head of Jenkin house and had an absolute blast working alongside Mrs Phillips in the Orange house. Thankfully I still see many of my Jenkin students each day around campus. This year I have taken up the opportunity to move across to Millward house. While I was very sad to leave Jenkin, change can be healthy and I'm enjoying finding my feet in the Purple house. I'm learning so much working with Ms Watanabe!
I have never worked in a school quite like Girton and I am so grateful that I get to walk through the gates every morning. The students here have a magnificent mix of academic drive, zest for life and of course – emotional intelligence. Sometimes students here take their own people skills for granted, but the interpersonal training our students receive along the way definitely gives them a beautiful, warmth and a personable edge. The people you share an office with here, and the students you encounter in classrooms are generally only too willing to connect and make the effort. In walking to class each morning, you generally get at least a dozen smiles and 'good mornings' from students and colleagues which is a lovely way to start a working day.
The culture of excellence & growth is present in everything that happens here – in classes, sport and musical performances. People are continually looking for ways to improve, develop and learn. Irrespective of age or role, at Girton it is impossible not to be continually ramping up, trying something new and pushing beyond our comfort zones. Standing still isn't something that happens very much at Girton.
Finally, something at Girton that still blows me away is the elite standard of musical performances here. Sometimes, in listening to a student performance, I close my eyes and it can be hard to believe that the spectacular sounds are coming from a group of teenagers. It is absolutely impossible to pigeonhole a Girton student – our students here are so well rounded. You can coach a boy in Interschool football one day, then the next day see him up playing a violin in a thirty piece orchestra. I love that about Girton culture.
My favourite classroom activity
Being a qualified Graphic Designer & Illustrator, I love illuminating learning via visual means whenever I can. I enjoy showing students things via clips, drawings, cartoons, diagrams or using colour in creative ways and find this can be a very effective way of making concepts 'stick'. I also enjoy building student confidence via getting them to pass on their learning to others. In my Inclusive Education role, there is nothing better than teaching a student something they previously didn't understand, then making them an expert via teaching others. This transfer of confidence illuminates a classroom!
I alove breaking up my teaching via coaching sports teams, whenever the opportunity presents itself (especially cricket, football and table-tennis).  Connecting with students via their sporting passions can be very useful in building authentic student relationships.
In the same way (aside from the lack of sleep involved), I love school camps. These are a great chance to really get to know young people and quite often those that thrive on camp can be different to those who rule the roost in the classroom. Often the support required on camp can be different and more personable than the academic support required in the classroom. Being away from home for an extended period can be very challenging for young people, but is brilliant in teaching independence and resilience. The small and seemingly insignificant ways we support them on camp can be the difference between having a horrible time or having a wonderful experience and making lifelong memories!
What difference can good teaching make?
Great teaching can make the world of difference to the students in our care. The greater question is 'What do great and authentic teachers actually do?' There is no one, golden combination that makes for 'teaching excellence' but to me there are many great things that make for an excellent teacher. Being fully present and invested is an important foundation to any classroom. The ability to relate to the people in the room and establish great working relationships is important. Being well organised is something that students have consistently mentioned in surveys over the years. Being passionate about what you are teaching and putting student learning first are also important aspects of effective teaching. In the modern classroom it is important to differentiate – pitching the content to multiple ability levels so everyone can access the work. As a great white shark can sense a drop of blood in the ocean, I have found that students are very good at detecting who actually cares for them and is genuinely passionate about the topic of the day. Therefore, being fully present and loving what we are doing is vital in helping students maximise their learning. In recent discussion with students, they also maintain that in the modern world, a teacher must be technically competent and be able to implement technology quickly and effectively, including timely communication on digital platforms – this is something I am continually working on!
Working in the Inclusive Education team, I thoroughly enjoy building relationships and trust with students who may encounter various challenges in their learning. In recent years, I have worked to better understand ASD, ADHD and Dyslexia in the modern classroom. Whilst complex and challenging at times, thankfully schools are getting much better at unlocking learning for all students via putting adjustments and appropriate supports in place where they are needed. Being able to instigate some support for a student and help them through a rough patch is an absolute joy in teaching, and a privilege that I never take for granted. In these cases caring, professional support is everything.
Other Hats
Outside of my professional life, I absolutely love life and maintain many passions and interests as time allows. I love the visual arts and continually try and find time for illustration, drawing and painting. I love drawing people and have sold a number of caricatures and portraits online. Another passion for me is golf, where play off a single figure handicap. Though limited in recent times, I enjoy travel – recently spending time in both India and Japan. I enjoy dabbling in music – a few years ago I was part of a three piece acoustic cover band with some friends – we were named 'Venkman' after the Ghostbuster. On a day to day level, I love chilling out at home with my wife Alli (Girton's school nurse) my dog Bella and my cat Mabel. I believe that dogs have many traits that people can learn from, and our dog Bella brings so much joy to our lives. I dabble in the kitchen (and thanks to modern technology) enjoy nothing better than a browse online, then a trip to the grocery store and a session in the kitchen. My wife Alli and I get up each morning at 5.30am and try our best to maintain an optimal level of health and well-being. This involves daily meditation, yoga sessions, weights in the shed or running out the back in the Whipstick state forest. We are both members of the Carlton Football Club and enjoy nothing better than an adventure down to Melbourne to cheer the Mighty Blues home to victory.