22nd November 2021
When Girton students in Years 8 to 12 return to school next year, they will be continuing the classes they commenced at the end of Term 4 with their 2022 teachers and classmates.
Head of Girton Grammar School, Dr Clayton Massey, describes Girton's Early Commencement Programme (ECP), where students step up into the next year level for three weeks at the end of Term 4 every year.
"Many of us have fond memories of the final weeks of the school year mainly being about Christmas decorations for the classroom, icy poles at lunchtime and Kris Kringle's with different friendship groups.
"These cherished traditions endure, but as students progress through school, these fun rituals (necessarily) sit alongside academic engagement rather than being the main game.
"When many schools start winding down for the academic year, Girton Grammar School's senior students start winding up by starting their classes for the following year," Dr Massey said.
The overall intention of the ECP is to retain student academic engagement until the last day of school. The three-week learning programme allows students to understand the curriculum requirements for the coming year so that they can hit the ground running when they commence the new academic year. At Girton, the ECP programme runs from Year 7 to Year 11, recognising that getting a head start on curriculum before a new school year commences is always a good idea.
In further preparation for the coming year, all Year 12 Girton students undertake a three-day camp in Melbourne before the school year starts, immersing in a range of lectures at various Universities and culminating with a formal dinner with industry guest speakers. The VCE Conference sets the tone and expectations for the oldest students.
"We know from experience that since introducing the ECP at Girton in 2011, students remain more switched on to their learning at a time of year when it can be challenging to keep students engaged.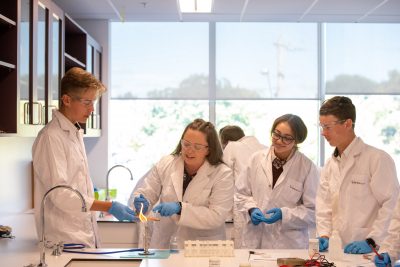 "The ECP acts as a reset button for students and staff. Students are excited about moving into the next year level, meeting new friends and getting to know new teachers.
"It makes the transition to a new year level at the beginning of the following year much smoother and gives students who are undertaking elective subjects for the first time an idea of what is in store and an opportunity to make changes if necessary.
"Keeping students motivated and engaged until the last bell is essential in a school year where every week of learning must count.
"With students already prepared for 2022, we look forward to welcoming students back to school and into their already familiar classes," Dr Massey said.