14th December 2018
Prudence Whiteley hopes to study Medicine next year so it is just as well she enjoys being pushed out of her comfort zone and meeting new people.
She says that she is grateful for having been encouraged to do her very best by both her peers and her teachers during her seven years at Girton Grammar School.
"I have learned so much through my school journey but especially compassion, resilience, and determination, which I believe will put me on a steady course for the future.
"I have been encouraged to never be a bystander and to speak out against social injustice and I am grateful for having this instilled in me," Prudence said.
Prudence said that her final year of school was special for several reasons.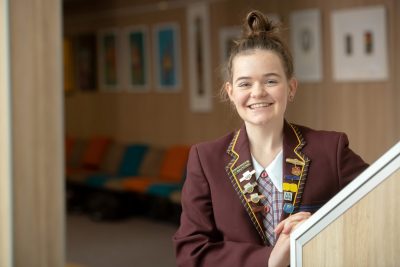 "This year, I became extremely close with the majority of my year level and established a great relationship and rapport with my teachers.
"Being involved in a Prep class this year, as well as mentoring a Year 7 Tutor Group has been an amazing experience, allowing me to get to know younger Girtonians on a more personal level," she said.
This year Prudence was a School Vice Captain and President of the Leo Club. She also worked part-time.
"It has been such a busy year and sometimes balancing everything has been tricky but making time to have fun with family and friends is really important.
"This year has also highlighted for me the importance of choosing subjects that you love and are interested in. I would advise students not to be swayed into choosing, or not choosing a subject because of scaling," she said.
Prudence credits many people for having supported her through her final year of school.
"My family, friends and of course my teachers have been my greatest supports this year, creating a network of people I can turn to for any problem no matter how big or small.
"The staff at Girton are amazing, all of them, especially those from my House, who have been willing to lend a hand or provide valuable advice," Prudence said.
Pictured: Prudence with her sisters, Isabelle and Harriet, brother Albert and mother, Anita.